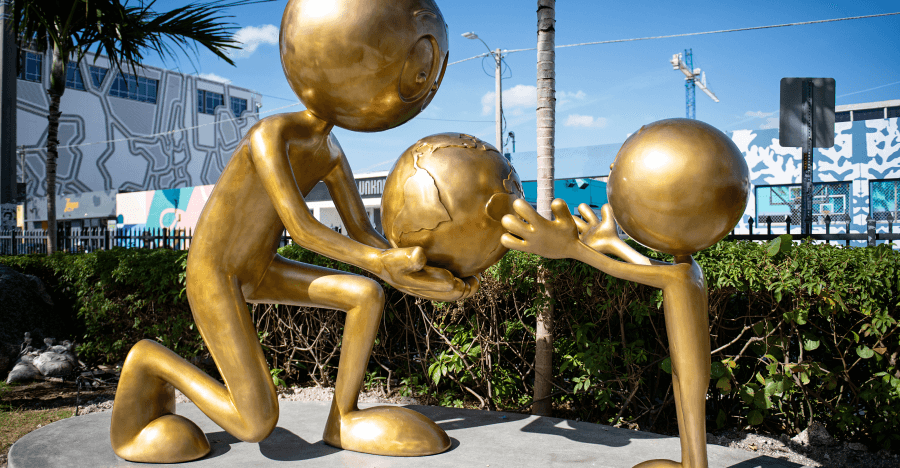 Kai is an international street artist recognized for his single-frame storytelling, signature Imaginary Friend (IF) character and unrivaled use of cement.
Kai has an ability to explore powerful messages and universal themes through any medium. His unique style and social commentary continue to set him apart from his contemporaries.
Kai was born and raised in Los Angeles, California. Son to a French-Tunisian father and Mexican-American mother, he grew up surrounded by a unique blend of history, tradition and celebrations. As a result, Kai developed an appreciation for culture and art early on. He found a medium for his interest at age 14, when he began to create original pieces throughout his sprawling hometown. The streets were his canvas.
Kai created his signature "IF" (Imaginary Friend) character with no discernible color, sex, or race. Kai wanted the character to be warm, relatable and impactful. IF helps communicate countless, universal concepts and values in creative and thoughtful ways.
His collections have been shown at countless cultural events and art venues around the globe including Miami Art Basel and ComplexCon. Kai works endlessly to bring IF to life in every corner of the world. He is passionate about giving all of his followers access to his art, regardless of their location. Kai's murals, stealthy cement installations and gallery work can be found in Atlanta, Miami, New York, Amsterdam, London, Paris, Hebron (Israel) and Beijing.